If you've got many employees or customers, it can be a hard task going through and creating an email signature for every single one of them manually. We can bulk import the user data for you, which will save you hours.
How it works
Because email signatures are very complex, only Gimmio support staff can do the bulk import on your behalf.
Once we've completed the import, you will see all the imported users and their data in your dashboard. The whole process is usually completed within 1-2 business days.
Prerequisites
Before we can bulk import your user data, you will need to create at least one user in your dashboard (sort of like a template) and style it exactly how you want it.
This is done so we know which fields to associate with the fields in your user spreadsheet.
What we require
We will need a CSV or TSV file with all your user data formatted in the following way.
The top row should have columns with the field names. The field names have to be identical to the field names that are in the Layout tab of your template signature that you created earlier. If you include any fields in the CSV that are not in the template signature, they won't be imported.
Notes:
- If you send us a CSV file that includes users that you have already created in Gimmio manually, this may result in duplicates when we import the CSV file. So, when you create the CSV, please only include the users that you want us to import and not the users that are already created in Gimmio.
- We are unable to bulk import field hyperlinks or images, and these will need to be added by you after the bulk import has been completed.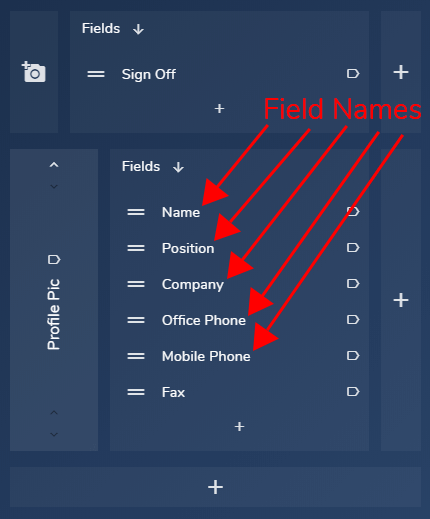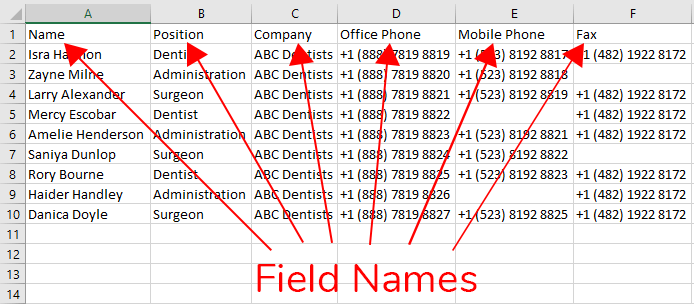 How to send us the details
To make it easier, we've created a template for you. Simply copy and paste this template into a new email and send it to support@gimm.io.
My Name: <your name>
My Company: <your company>
Account Email Address: <email address you signed up with>
CSV File Formatted Correctly: <Yes/No>
CSV File Attached: <Yes/No>
Which group to import to? <name of group from your dashboard>
Got any questions?
As always, if you have any questions, feel free to contact us and we will happily assist!